Belgrade
Belgrade is the capital of Serbia, with the population of around 1.7 million people. There are direct flights to Belgrade from all major European cities: London, Paris, Rome, Amsterdam, Frankfurt, Munich, Zurich… Comprehensive information about Belgrade can be obtained from Belgrade Tourist Organization, and about Serbia from National Tourism Organisation of Serbia. You can find important spots in Belgrade using the Android Belgrade Walker.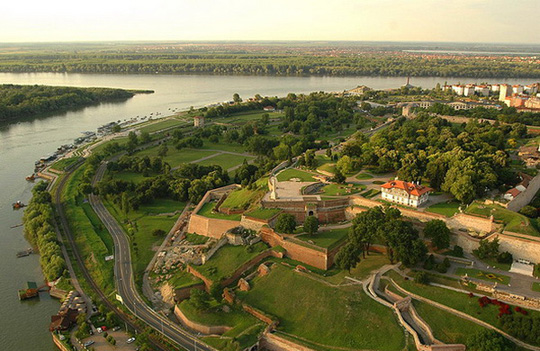 Kalemegdan Fortress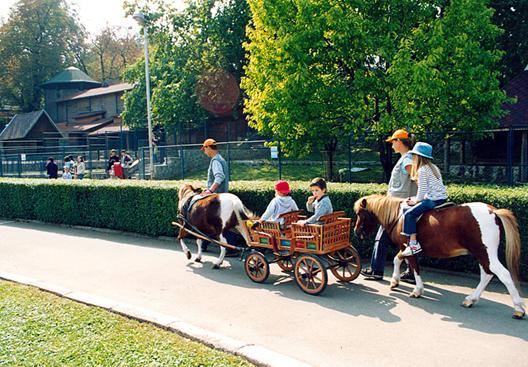 A scene from the Belgrade zoo
Belgrade has a long history, it was settled as early as the 6th millennium BC. It was inhabited by Serbs in the 7th century, however, it was ruled by different empires through centuries: Roman, Byzantine, Frankish, Bulgarian, Hungarian, Ottoman, Austro-Hungarian. So, it comprises a variety of historical sites, and its culture is actually a blend of different cultures. In particular, the food has been influenced by different ethnic groups. For example, one can eat good Turkish and Austrian cakes in Belgrade which are now part of the national cuisine for years. Many restaurants are practising a special Serbian custom and have bands who play music while the guests have their meals. A band would visit tables who are interested, and the guests can order their favorite songs. This music also reflects a variety of nations who ruled Belgrade or were associated with it in other ways as well.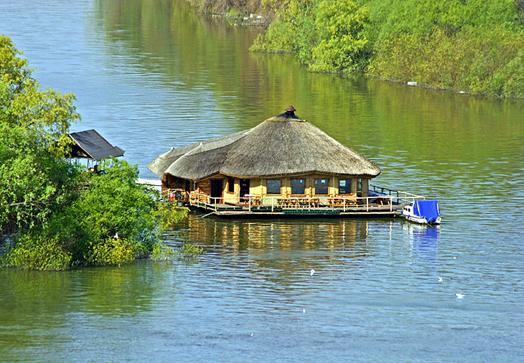 Famous restaurant "Old Cottage"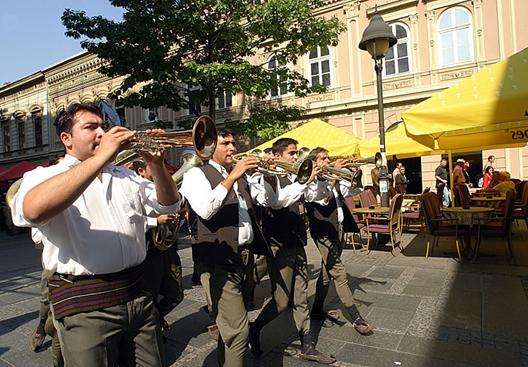 Trumpet players are popular in Serbia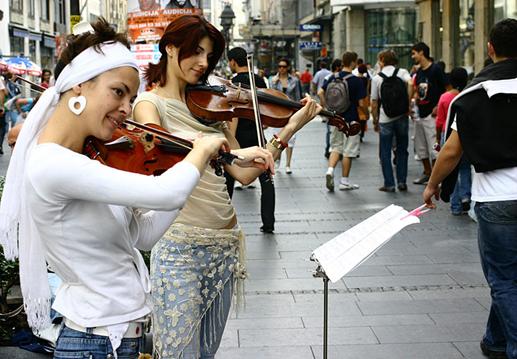 Players on Knez Mihailova street
Historical sites, and good restaurants are concentrated in Belgrade downtown. Knez Mihailova street is a pedestrian zone with many cafes and shops. It was laid out along the grid of a Roman city Singidunum which preceded Belgrade. This street got its current look and name in the middle of XIX century. It starts with Freedom Square where the National Museum and the National Theatre are located, and ends with the Kalemegdan Fortress which was first mentioned in the 3rd century BC. Skadarlija street intersects Knez Mihailova street, and it hosts many old bohemian restaurants, in Serbian known as "kafane". It became the gathering place of writers and actors and the beginning of XX century. In these restaurants, for example, guests can order music while enjoying their food. Barbecue is the favorite here. There are many other important and historical buildings such as: Serbian Parliament, Church of Saint Sava (one of the largest Orthodox churches in the world), White Palace (house of Royal family Karadjordjević), House of Flowers (Tito's mausoleum) etc.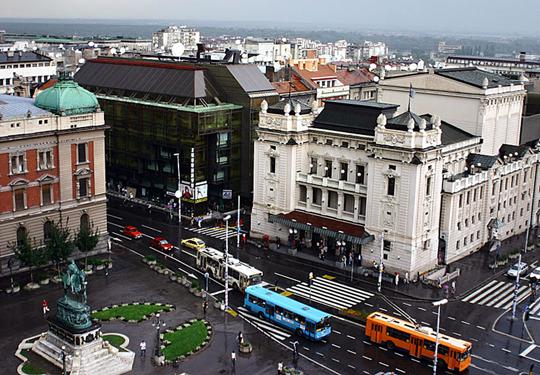 National Theatre and National Museum on the Republic Square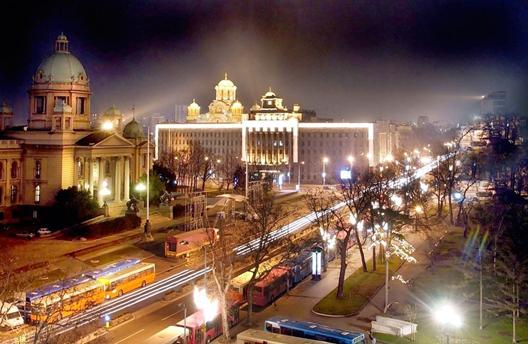 Belgrade at night: Parliament in front,
and Church of St. Marko in the back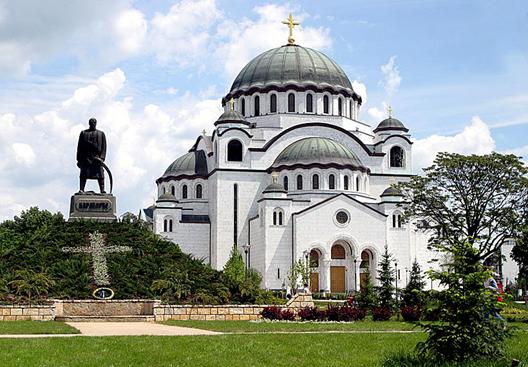 Church of St. Sava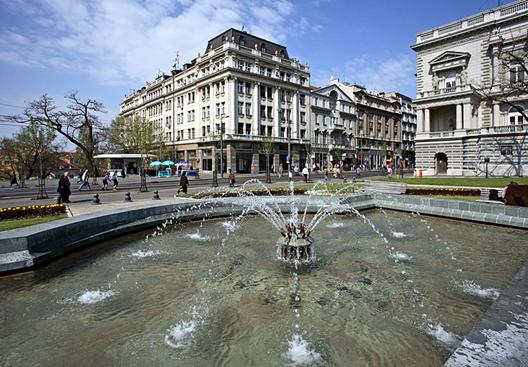 A fountain
Skadarlija is the bohemian quarter of Belgrade and an unavoidable place to taste local specialties. Nearly all restaurants have live music. This part of the city was formed in the first half of the 19th century, and in 1872 Skadarska street was first given its name, at the same time as the houses were given numbers. Many famous writer, actors, painters and journalists once lived in Skadarlija. Skadarlija took on its Bohemian appearance from 1901 onwards, when following the demolition of the famous Dardaneli inn, the regulars relocated to the inns in Skadarlija. Many local and foreign personalities "spent their best days here - by night." The famous Serbian poet and painter Đura Jakšić lived and died in Skadarlija. His house was converted into a meeting point for poets from the "Skadarlija Soirées" ("Skadarlijske večeri"). Today you will find in Skadarlija, which is now a leading Belgrade tourist attraction, the famous restaurants of Tri Šešira (Three Hats), Ima dana (There are Days), Dva jelena (Two Deer), Skadarlija, Zlatni bokal (Golden Bowl) and Dva bela goluba (Two Whites Doves), as well as galleries, antique shops and souvenir stalls.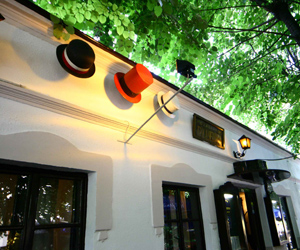 Restaurant "Three hats"
Belgrade lays on the confluence of two large rivers, Sava and Danube. Its banks are beautifully arranged for strolling, cycling and dining in the restaurants on the rivers. Ada Ciganlija is a former island on the river Sava, and it is now connected to the shore. There are 7 kilometers of beaches and sport facilities here. Particularly nice is the Danube bank in historical Zemun. Many say that Belgrade lives on its rivers. Belgrade hosts a great number of international sport events thanks to the successes of the Serbian sportsmen: Universiade 2009, Eurobasket 2005, 2005 European Volleyball Championship, 2006 European Water Polo Championship… Also, it hosts many cultural events, a variety of concerts, major festivals, BEMUS, FEST, BITEF, as well as the Eurosong Contest 2008.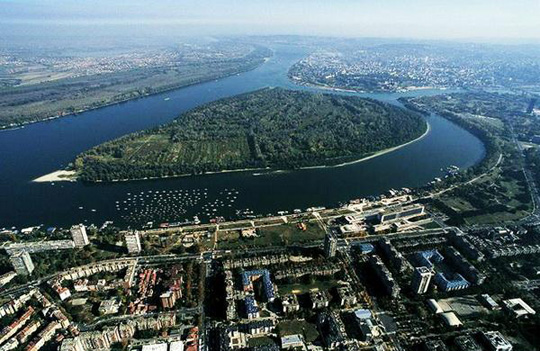 The confluence of Danube and Sava rivers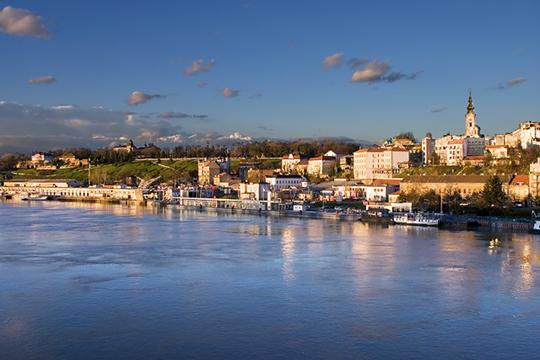 A view of the river bank and the Kalemegdan Fortress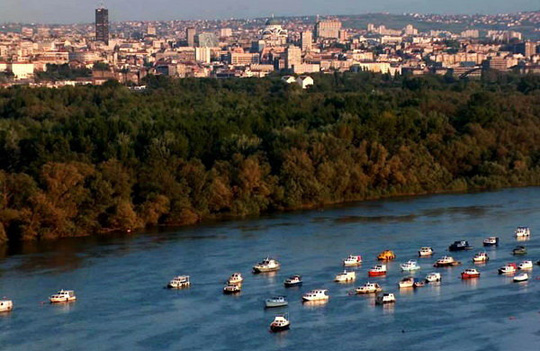 Boats are popular in Belgrade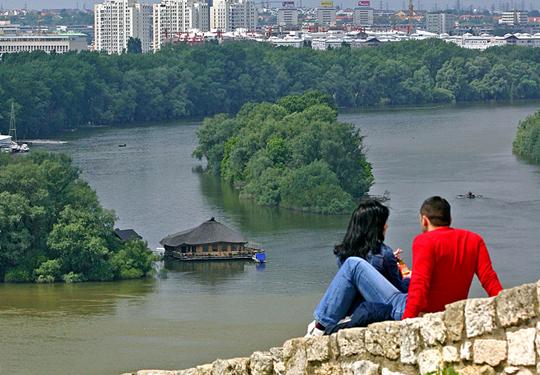 New Belgrade from the Kalemegdan Fortress