Hotel Balkan
The conference will be held at the Hotel Balkan which is located in the heart of Belgrade. Hotel Balkan is a four star hotel that has been renovated a couple of years ago. It has nicely arranged rooms with a view of Terazije Square, and a pleasant restaurant where lunches will be provided. Hotel Balkan was very kind to offer a significant discount to IEEE HPSR 2012, and so, single standard rooms will be charged at the rate of 70 euros, single queen rooms at the rate 80 euros, and single comfort rooms at the rate of 90 euros. Price for an additional person in a queen or a comfort room is 10 euros. The room rates include buffet breakfast, insurance and all taxes. Internet access is free of charge. These rates are guaranteed until April 24, 2012. Please make reservations as soon as possible, because the number of rooms is limited.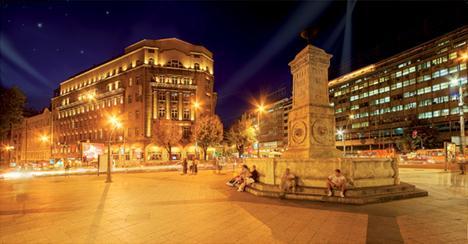 Hotel Balkan is an oasis of peace and cosiness, placed amidst the boiling energy and tumultuous life of Belgrade center, daily visited by thousands of people, and is an ideal basis for businessmen as well as for leisure travellers.
It is in the vicinity of Knez Mihailova Street, a promenade where you can feel all the charm of Belgrade, and just a couple of steps from the Republic Square, near many theaters, museums and cinemas, as well as near Skadarlija, - old bohemian quarter. It is also near the building of Belgrade Parliament, the Economy Chamber of Serbia, the Economy Chamber of Belgrade, numerous ministries and other institutions, relevant for business people.
Hotel Reservation
A significant discount is guaranteed for rooms in Hotel Balkan if they are booked until April 24, 2012. The number of reserved rooms is limited. Sessions and lunches will take place in Hotel Balkan. Rooms can be reserved by filling the attached form and sending it to Hotel Balkan either by e-mail: reservations@balkanhotel.net, or by fax:+381 11 2687 581. Please note that discounted rooms can be cancelled until May 24, 2012.